Integrating your brand through your company at every touch point helps build a strong reputation, generate sales and lets the world know about your remarkable products or services. The more your community and potential customers know about your brand, the more likely they will be to do business with you. Creating awareness of your brand and your business involves telling a unique and compelling story, right down to the custom headwear your employees or customers reach for.
Building Brand Awareness with Custom Headwear
Custom apparel has been long known as a powerful and effective marketing and branding tool. In fact, a 2016 study by the Advertising Specialty Institute reveals that headwear generates 3,136 impressions over its lifetime.
Custom headwear, in particular, can be one of the most highly-effective marketing tools for your business. Here are three ways custom headwear help build your brand:
1. Get more eyes right on your brand
Think about it; when you first see a person wearing a hat, where do your eyes go? They're naturally drawn to the top of the person's head, looking to see what statement the logo or slogan makes. Your brand is placed right in front of your audience, and you can even reach those who may have never heard of your business before, sparking interest and conversation
2. They're highly versatile
Headwear can be worn in a variety of industries and are available in a wide array of colors, styles and additional options to really make them stand out in a crowd. Choose from a vibrant color that matches your logo and customize it from there, or go with black or white to allow your logo to shine.
3. Become a part of your audience's fashion style.
Every time your custom hat is worn, whether to work, tradeshows, sporting events, or even family picnics it becomes a walking billboard for your company. Custom headwear are worn year-round, and often become a favorite accessory that is reached for time and time again.
It's clear that utilizing custom headwear to build brand awareness is an opportunity that your business can't pass up. Plus, they make great gifts for commemorating exciting events within your company. However, when designing your custom hat it's important to keep in mind that this is a branding tool and should be treated as such. Make sure your business name or logo are always highly visible.
If you aren't sure what type of custom hat will meet your needs, the in-house designers at Global Sourcing Connection are always ready and willing to help. Let us take your ideas and create the perfect custom headwear that far exceeds your expectations, with unique styles that effectively highlight your brand. We pride ourselves on the innovation, safety and savings we provide to our clients, offering fully customizable products you can't find anywhere else.
Contact us today to learn more, and click here to view an introductory offer for new customers.
Enhance your brand with custom headwear.
Download our complimentary guide by filling out the form below.
Want to enhance your brand with custom headwear, but don't know where to start? Fill out the form below and we will send you a complimentary guide to help you step-by-step design the perfect custom headwear. This is an exclusive piece and won't be available to the public for long!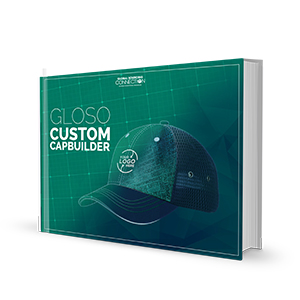 Custom headwear orders include a minimum order of 144 hats with a lead time of 90 to 120 days. Contact us for more information.
Research provided by the Advertising Specialty Institute, ©2016, All Rights Reserved.