A quick search for promotional products distributors brings up hundreds, if not thousands, of results on the internet. Because these types of products can be so vital in building awareness around your brand, it's important to choose the right distributor that will not only meet your needs, but help ensure the success of your business.
Choosing a Promotional Products Distributor: What to Look For
Where should you begin when you need to hire a promotional products distributor? We've outlined a few steps and guidelines to consider before you place your first order:
Step 1: Make Sure the Promotional Products Distributor Understands Your Audience
When choosing a promotional products distributor, find out if they've ever worked with a company like yours before. The distributor should be asking pointed questions about your target market, your goal for the promotional item, and how consistent this particular campaign is with your brand. This way, you can rest assured knowing that the distributor will be essential in helping you pick the best product for your industry.
Step 2: Find Out if the Sales Team Prides Itself on Excellent Customer Service
The distributor should work to build a solid relationship with you and your team so you feel as though you have a partner in the process. You should be encouraged to ask questions and talk through your ideas with the sales team at all times, and the team should be responsive throughout all steps of the sales process.
Step 3: Ask if Branding Experts are Available to Assist Every Step of the Way
Whether you've never developed promotional products before or your last distributor let you down in some way, you should feel confident with your choice by learning more about the team assisting you. This team should include branding experts who understand how to most effectively convey your message. They should ensure that your deadline will be met, and that you won't be left in the dark throughout any stage in the process, from the initial artwork set up to the estimated date your products will be delivered.
Step 4: Is Providing Quality Products and Exceeding Expectations Standard Practice?
Do your research and learn more about past projects the promotional products distributor completed for other brands. Were these companies satisfied with their products? Were the materials durable, high quality and completely customizable? Did the customer place additional orders? Knowing the level of quality you can expect helps provide peace of mind that your needs will be met, on current projects or future orders.
You should also understand the level of product safety and compliance the company adheres to. Products that are unsafe, hazardous or were not ethically sourced can hurt the integrity of your brand. Be aware that some promotional products distributors follow more stringent compliance rules that others.\
Global Sourcing Connection's team consists of experts in brand awareness, committed to the highest level of customer service. We go above and beyond most promotional products distributors by offering full graphic design support from our in-house team. Every product is tested for adherence to Prop 65, CPSIA and adheres to all laws and regulations for fair wages and safe working conditions. Even after your products are designed we can assist your brand by offering a custom ecommerce store that guarantees your employees or customers ordering process is efficient and user friendly. We believe you shouldn't compromise your brand, and we take pride in exceeding your expectations without exceeding your budget.
Become our partner and find out how we can not only save your company money, but also ensure the integrity of your brand. Contact us today to learn more, and click here to view an introductory offer for new customers.
Contact us today to learn more, and click here to view an introductory offer for new customers.
Enhance your brand with custom headwear.
Download our complimentary guide by filling out the form below.
Want to enhance your brand with custom headwear, but don't know where to start? Fill out the form below and we will send you a complimentary guide to help you step-by-step design the perfect custom headwear. This is an exclusive piece and won't be available to the public for long!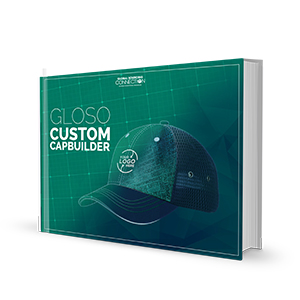 Custom headwear orders include a minimum order of 144 hats with a lead time of 90 to 120 days. Contact us for more information.