Custom headwear is an effective marketing tool that can be easily imprinted or embroidered with the exact message you're trying to convey about your brand. However, when it comes to customizing the perfect hat, it's often not a one-size-fits-all option. Many custom apparel companies may not have the high standards you seek.
This is why your business needs to choose a reputable company to work with; one that offers quality products with renowned customer service to ensure you're getting the most for your money. It's not always about the lowest price, but ensuring that you're getting the most for your money.
Custom Headwear: Do You Know Quality When You See It?
Whether your custom headwear will be utilized by employees as part of a work uniform, are designed for a special event, or you're simply providing promotional materials for an upcoming tradeshow, it's important to ensure your headwear is of the highest quality. The last thing you want is for these special products to fall apart after only a few wears, or to get tossed in the trash before your message can get delivered to your audience.
Here's how to recognize the top 3 signs of a high-quality custom headwear:
1. Superior printing or embroidery
The design itself should look highly professional, and it should perfectly match your logo or additional promotional materials you may have. This means not just using colors that are "sort of" close to your designs, but an exact match. The promotional materials company should offer a wide variety of print and thread colors, and the design team should be able to take your ideas to the next level.
2. Durable materials
Along with a variety of color options, the materials themselves should be long-lasting. If a custom hat gets fraying threads, or the print work begins to fade or peel away after a couple wears, you can tell the materials used to create the hat were of poor quality.
3. The perfect style
Finally, custom headwear should be available in a selection of sizes and styles to meet your needs. Think about the recipients of the headwear; would they prefer a fitted baseball hat that can be easily adjusted to the right size? Is the fabric snug and breathable? You should be able to choose from several different styles and fits that will best convey your message.
Our mission is to provide our customers with not only a quality product, but with the quality service that ensures your complete satisfaction. Don't compromise your brand with custom headwear that only meet half of your expectations. Our products are fully customizable, and can't be purchased in any catalog. We understand your brand is unique, and the products that represent your brand should be as well. Let us exceed your expectations, but not your budget, with our high-quality custom headwear today.
Visit our website and browse our custom headwear, or contact us today to learn more.
Contact us today to learn more, and click here to view an introductory offer for new customers.
Enhance your brand with custom headwear.
Download our complimentary guide by filling out the form below.
Want to enhance your brand with custom headwear, but don't know where to start? Fill out the form below and we will send you a complimentary guide to help you step-by-step design the perfect custom headwear. This is an exclusive piece and won't be available to the public for long!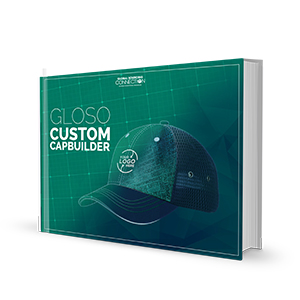 Custom headwear orders include a minimum order of 144 hats with a lead time of 90 to 120 days. Contact us for more information.